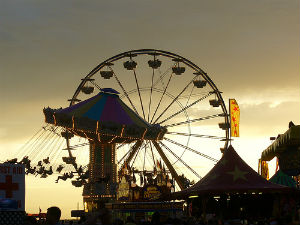 The Red River Exhibition is a long-running agricultural exhibition and fair based out of Winnipeg, MB.  Fun for the whole family, the Red River Ex has become famous for providing exciting rides, world-class performers, and plenty of agricultural activities for the whole family.
Get nose to nose with an alpaca, learn where your dinner really comes from, see talented stock dogs corral sheep in under three minutes, see how blue the sky really is from atop the ferris wheel, feel the grass between your toes as you listen to the sounds of your favourite concert on the perfect summer night and end the evening off with a lip-smacking candy apple!  The Red River EX features nightly concerts, family attractions, animal interactions, agricultural exhibits, tasty treats and the world's largest traveling midway.  It all happens ONLY at Red River Exhibition Park on Winnipeg's west side!
Date(s): June 12 – 21, 2015
Location: Red River Exhibition Park, Winnipeg, Manitoba
Admission: $10 (advance)/$15 (at the gate)
Phone: 204-888-6990
Fax: 204-888-6992
Activities include:
Interact with Animals

Learn About Agriculture
See Unique Agricultural Competitions
Watch Great Family Entertainment
Take in a Free Main Stage Concert
Pancake Breakfasts
Great Community Performers
See Talented People Showcase Their Fascinating Hobbies
Find Out Where Your Food Comes From
Try Some Tasty Treats
Meet and Greet Some Terrific Kids Performers
Ride Thrilling Midway Rides
Much, much more! For info, check our website.